I recently had a customer that wanted Internet Explorer to be published as a locked down version without toolbars and userinterface. The goal was to publish a browser based application to allow for a smart card rollout and not allowing users to browse away from this site. The search for a solution was harder than expected.
The solution most frequently found with Google was the built in "kiosk mode" of Internet Explorer. This mode can be activated by appending the parameter -k to the IE shortcut. For more details see http://support.microsoft.com/kb/154780. In this mode the IE starts in full screen mode, but without the ability to access the navigation panes, toolbars and menus as it would be possible when switching to full screen view by pressing F11. To end such a session, the user is forced to use the Alt. + F4 hotkey and all navigation in IE has to be done through hotkeys too. Not the solution we wanted for standard users 🙁
The next approach were Microsoft Group policies, but they too had too many constraints and issues. One issue here was, that there is no way, to hide the standard toolbars through group policies. It would have been therefore inevitable to manipulate the HKCU branch of the users registry at logon. This is a subject, where the otherwise "overloaded" IE policies are not detailed enough 🙁
The solution came through a VBS object. Internet Explorer can be addresses and controlled through VBS. This gave me the possibility to adjust the user interface of the IE and to hide all toolbars, navigation panes and menues, without disabling basic functionality. The following code starts IE with a predefined URL and makes it much more difficult for users to break out of the predefined environment 🙂
DIM IE
Set IE = CreateObject("InternetExplorer.Application")
IE.Navigate "http://this.is.the.url.to.be.shown"
IE.Visible=True
IE.Toolbar=no
IE.Menubar=no
IE.Statusbar=no
IE.Width=750
IE.Height=600
IE.Resizable=yes
'IE.Top=5
'IE.Left=5
The entry IE.Navigate stands for the target URL. Take care that the whole URL is surrounded by double quotes. Optional parameters are for the windows size (IE.Width/IE.Height) and the windows position on the users desktop (IE.Top/IE.Left).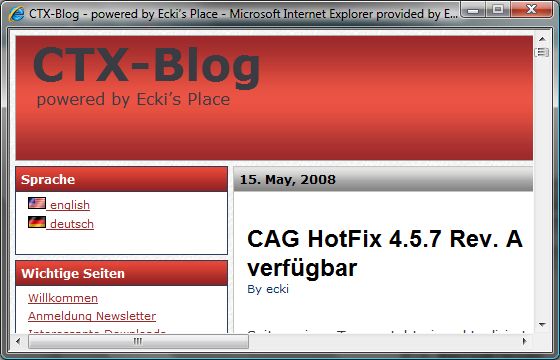 This script works perfect under Windows XP and 2003 Server. With Vista and 2008 Server administrative privileges are required!
Regards
Ecki